Create® for NEXTSTEP by Stone Design
Description
Create® for NEXTSTEP is an intuitive, multi-page, color drawing program for NEXTSTEP 3.1 or higher. It includes all the high-end tools and effects you'd expect from a professional package, yet remains remarkably easy to use.
You can draw, modify and group graphical and text objects with a click of the mouse. Create® is well-suited to basic layouts and business graphics, offering features that make precision placement of objects a snap. Two text styles, Super and Paragraph, support draw-type effects, kerning or formatting features you'd expect only from a word processor!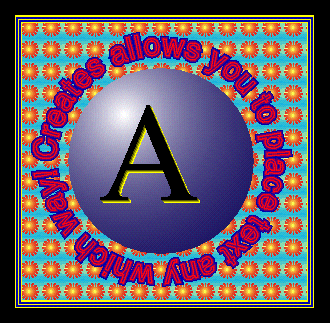 Create®'s inspectors simplify editing of each object's characteristics, allowing access to all PostScript parameters. Built-in special effects - neon, skew, multiple, shadow, fill and patterns let you achieve stunning results in minutes.
Advanced features include: Autotrace, Animator, Pattern editing and Create®'s unique User PostScript environment that lets users view, edit and execute the PostScript code of any image created in or imported into Create.
Create exploits the power of NEXTSTEP with extensive interapplication connectivity: drag & drop, object linking to and from Create, export to TIFF, EPS and PS formats.
To see what a real artist can do with Create®, visit the home of Maren Cooke.
Available on CDROM with all the Stone Apps, tutorials, online manuals, TIFFS and much more!.
505-345-4800
505-345-3424 fax
info@stone.com