for Mac OS X
by Frank Siegert and Andrew Stone
PDF Conversion Technology (c) Frank Siegert 1989-2008

Generate, reprocess, normalize and check PDF, EPS and PS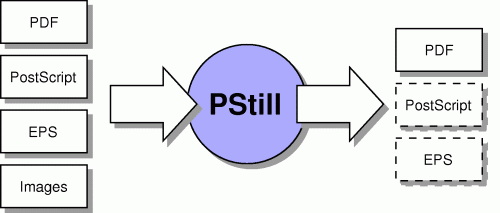 PStill is a user friendly PostScript to PDF convertor with many options and features. You convert eps, ps, any image format to PDF with drag & drop. Repurpose PDF directly from any application using PStill. Shrink PDF, combine files to make one PDF, make posters, automated print work flow and hot folders. Built-in PDF checker shows you PDF version and PDF/X3a compliance. An expert module to combine Separations into a Composite and convert PhotoShop DCS to PDF files is also available!Download Features PDF!

WE KNOW PDF!

$69, full server version.
See screenshot and press release.